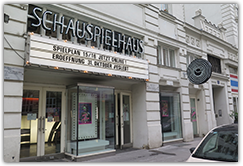 Schauspielhaus
Originally, in the early 20th century, the building located in Porzellangasse 19 was a music hall, later a cinema. The Schauspielhaus was opened under the direction of Hans Gratzer in 1978.The theatre was lead by George Tabori from 1987 till 1990.In 1991 Hans Gratzer returned as director. His second period lasted until 2001 and he successfully positioned the Schauspielhaus as a first class German-speaking contemporary theatre.Since 2007 Andreas Beck has been the artistic director. Today, the theatre sees itself as a contemporary theatre, as a venue for literary enterprises, as a traditional writers' theatre. The focal point is set on the young and recent dramatic art.
You can reach us by phone (+43 1 712 54 00) Mon-Fri (weekdays) Mon-Sun from 17:30 - 19:30.
| date | performance | free seats & prices |
| --- | --- | --- |
Haider Lydia
Schauspielhaus
* ein Getränk und Tapas im Preis inbegriffen!