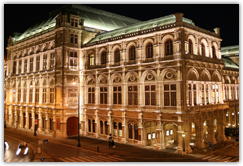 The Vienna State Opera
The Vienna State Opera is considered to be one of the world's leading opera houses – and rightly so. The opera house was inaugurated on May 25, 1869. In the presence of Austria's Emperor Franz Joseph and Empress Elisabeth Mozart's Don Juan was performed. Today the Vienna State Opera is one of the most important opera houses in the world and first and foremost the opera house with the largest repertoire. It has been under the direction of Dominique Meyer since September 1, 2010.
You can reach us by phone (+43 1 712 54 00) Mon-Fri (weekdays) Mon-Sun from 17:30 - 19:30.
Unfortunatly no performances available.