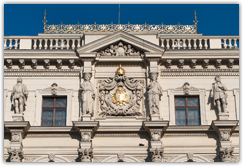 Kasino am Schwarzenbergplatz

The Kasino at Schwarzenbergplatz has become a well-loved venue for contemporary theatre,special series and projects.The Kasino at Schwarzenbergplatz was built in 1863 for Archduke Ludwig Viktor, the youngest brother of Emperor Franz Joseph. The Kasino at Schwarzenbergplatz became affiliated to the Burgtheater as a further venue in the 1970s. Due to the size of the auditorium with seating for a maximum of 200 people, the Kasino at Schwarzenbergplatz is the right venue for special projects.
You can reach us by phone (+43 1 712 54 00) Mon-Fri (weekdays) Mon-Sun from 17:30 - 19:30.
| date | performance | free seats & prices |
| --- | --- | --- |
Culturall Voucher
Culturall-Gutschein
This voucher can be redeemed exclusively on the internet at www.culturall.com for all events on sale via Culturall and can only be printed on the internet. Pick-up at the box office or shipping is not possible. For every 50 Euro voucher value, you will also receive one voucher each for a program booklet. The vouchers are valid for 5 years after purchase. Cancellation of tickets purchased with this voucher is not possible. This voucher cannot be redeemed for cash and cannot be used to purchase other online vouchers or elective subscriptions. Upon redemption of this voucher, an email will be sent to the purchaser of the voucher informing them that the redeemed voucher has been voided. By redeeming the voucher, the redeemer agrees that his/her data will be transmitted to the purchaser of the voucher, along with the date of redemption, if requested by the purchaser of the voucher. A return/cancellation or exchange of this voucher is excluded. With the purchase of this voucher, the visitor accepts the General Terms and Conditions of the seller, the organizer and the applicable house rules. The resale of the vouchers is prohibited. Culturall reserves the right in case of violation to block customers from purchasing vouchers as well as redeeming the resold vouchers. Please note that after 1.7.22 Culturall vouchers can no longer be redeemed for tickets of the federal theaters (State Opera, Volksoper, Burgtheater..).