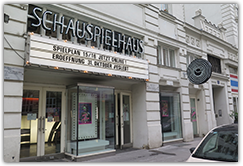 Schauspielhaus
Originally, in the early 20th century, the building located in Porzellangasse 19 was a music hall, later a cinema. The Schauspielhaus was opened under the direction of Hans Gratzer in 1978.The theatre was lead by George Tabori from 1987 till 1990.In 1991 Hans Gratzer returned as director. His second period lasted until 2001 and he successfully positioned the Schauspielhaus as a first class German-speaking contemporary theatre.Since 2007 Andreas Beck has been the artistic director. Today, the theatre sees itself as a contemporary theatre, as a venue for literary enterprises, as a traditional writers' theatre. The focal point is set on the young and recent dramatic art.
As a result of the measures to reduce the spread of corona virus all performances of the Austrian Federal Theatres until incl. 13.4.2020 cancelled and all performances in April and May are closed for sale.
The start of the subscription sale and the open sale for May at the Volksoper Wien has been postponed until further notice.

The season press conference of the Volksoper Wien was planned for April 24th, but will not take place due to the current situation. However, the Vienna State Opera's season press conference is expected to take place on April 26 at 11 am. From 29 April at 2 p.m. you can also order tickets for the new 20/21 season online at culturall.com.

The Kunstforum Wien will also remain closed until 13 April.
The Hofmusik-Kapelle is temporarily closed until 13 April inclusive.
All theatre box offices are closed.

If you have booked tickets for cancelled performances via Culturall will of course be automatically refunded by Culturall.

| date | performance | free seats & prices |
| --- | --- | --- |